Pancake Recipe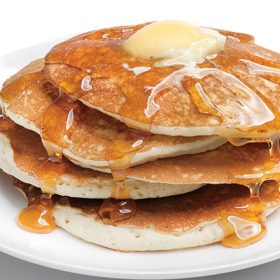 Using CassVita flour for pancakes we will together, make a yummy gluten-free pancake and get the most out of cassava, keeping a healthy living.
spatula
bowl
teaspoon
cup
tablespoons
¾ cup 84g CassVita flour
¾ teaspoon baking powder
½ teaspoon salt
2 eggs large, beaten
¼ cup coconut milk
¼ cup coconut oil melted
2 tablespoons honey
½ teaspoon apple cider vinegar
nonstick cooking spray
In a medium bowl, whisk together CassVita flour, baking powder, and salt. Add eggs, coconut milk and oil, honey, and vinegar, and mix well with the whisk until smooth.

Heat a large skillet or griddle to medium heat (350°). Spray the cooking surface with nonstick cooking spray.

For each pancake, scoop 2 tablespoons batter for small pancakes or ¼ cup for medium, onto the skillet and cook until a few bubbles form on top and edges are just starting to firm, about 2 to 3 minutes.

Pancakes will be a little sloppy when you turn them—push the spatula under half the pancake and gently flip it. Cook for about 1 more minute until cooked all the way through. Remove from pan and serve immediately.