CassVita Crepe Recipe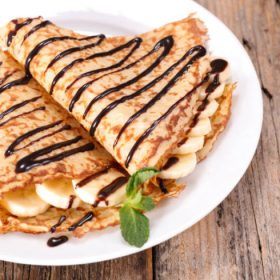 Using CassVita flour for crepes. We will together, make some yummy gluten-free crepes and get the most out of cassava, keeping a healthy living.
teaspoon
tablespoon
cup
Blender
rubber spatula
3 medium eggs room temperature
4 tablespoon melted butter
1 teaspoon honey
½ teaspoon fine sea salt
¾ cup CassVita flour
2 cup milk of your choice, divided (plus more as needed)
additional butter for frying 
Combine all ingredients using only 1 cup of milk in a blender and blend for 1 minute or until thoroughly combined

Add remaining milk and blend for another 30 seconds

Strain the batter through a sieve to remove clumps of flour, use a rubber spatula to help the batter run through the sieve.

Heat a lightly buttered stainless steel over medium heat

Pour 1/4 cup of the batter onto the pan and tilt it with a circular motion so that the batter coats the surface evenly

Cook the crêpe for about a minute, until the bottom is light brown and can easily be loosened with a thin metal spatula.

Turn the crêpe and cook the other side
Cassava is a root vegetable that serves as a valuable source of nutrition for more than 500 million people living in Africa, Asia, and Latin America. Its gluten-free and paleo-friendly properties make it of enormous global importance.